WARMING UP: EASY DOES IT
Before you start training, you need to warm up. That's because your muscles are like rubber bands. When you exercise, you put tension on those rubber bands. The tendons—the tissue that attaches the muscle to the bone—are not as elastic as muscle. Tendon is like a nylon rope.
If your tendons and muscles are warmed up, they become more elastic and forgiving of loads imposed upon them. That's what we're trying to accomplish with a warm-up, which is especially important on those cold days. The idea is to heat up the muscles, so they become less prone to injury.
You will see that there are warm-up exercises built into the start of each day of your program.
EXERCISE: STIMULATE MUSCLES
Whether lifting weights, or using your bodyweight as resistance, slow controlled movements are essential. When using dumbbells, select a weight that will challenge you but will not compromise proper form.
Each rep (that's muscle-speak for "repetition"—one single exercise movement) should take you one or two seconds to lift, and then two or three seconds to return to the starting position.
The idea is to keep tension on the muscle at all times. Try to resist the urge to swing up and let momentum give you a hand. At the same time, don't let gravity pull you down.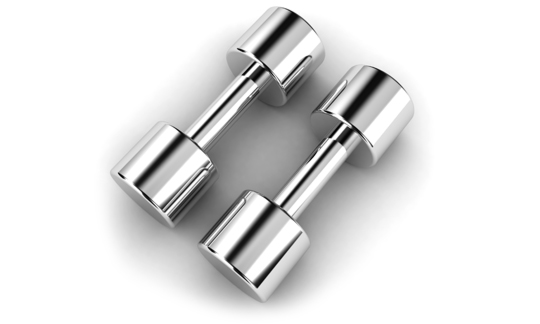 RESTING: QUICK BREATHERS
Rest long enough in between sets of exercises to catch your breath before you begin your next set. In general, you should rest about thirty seconds to one minute between sets. Recommended rest times are listed throughout the program.
Don't rest any longer than you have to, but let your body tell you when the oxygen debt has been cancelled and you're ready for more. That's when your breathing has normalized.